Offshore

Recommend Z-Guard Zinc Anodes to a Friend

Z-Guard Zinc Anodes offer a full range of Offshore anodes manufactured with Documentation to DIN EN 10204, 3.1B, containing full Chemical Analysis and Galvanostatic Test according to DNV offshore standard RP B 401 (1993) or NORSOK Standard M-503. You, the Client will receive a Certificate of chemical analysis (3.1B) that can be matched to the anodes by a corresponding cast number.
Stand off / Platform anodes
Stand-off anodes are designed so that they have a minimum distance from the steel surface they are protecting of 300mm, to ensure uniform current distribution to the surface. The life period of a system is not less than five years. The anode core will support the anode to maintain the anode shape during later stages of the anode's life.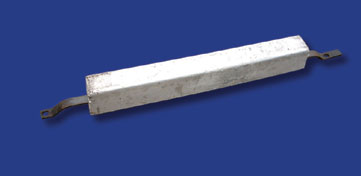 Bracelet Anodes
The OD of the anodes are usually manufactured to coincide with the OD of the pipe, but if this is not possible they are manufactured with a taper to allow for their movement.